Created: 02 April 2017
Updated: 25 May 2017
Published: 22 April 2017
Written by Native
Hits: 3429
Many neighbors helped clean up and plant on Saturday, April 22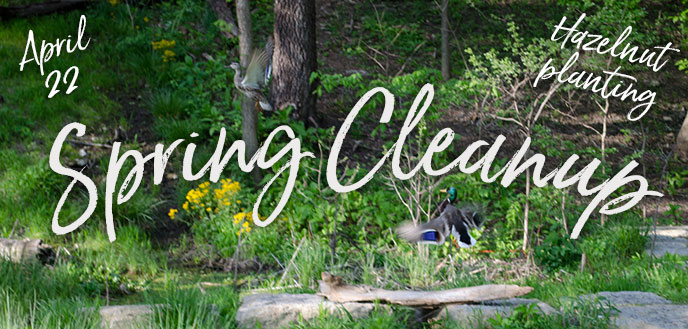 At the Karnes Playground, Lance K. had help from a family of three volunteers from Volker to place 2 cubic yards of mulch around the Prairie Dropseed and bare spots around boulders. They also picked up trash around the playground as well as the Roanoke Drive Bluff.
A family from Coleman Highlands also with dad Brian helping to place mulch and pull weeds and pick up trash from the bluff and Layover trail. Mom Ashley and son Wesley picked up trash along Coleman Springs "Bindle Byway" trail and other trails.
Randy, Pete, Curt, Bret, Scott and Sonya helped cut brush honeysuckle by the Karnes playground.
Chris D. had help from Brandon and three youngsters to plant nine of the hazelnut shrubs along the front of the Old Roadbed Slope near the Coleman Highlands wetland, as well as pulling two trash bags worth of invasive garlic mustard.
26 more hazelnut shrubs were planted Sunday 5/7 along the old roadbed slope near the Coleman Highlands Spring area.
172 native wildflowers and grasses were planted on Wednesday 5/24 in the same area.
Hazel-whats?
Charlie DeLong, son of volunteer park naturalist Chris DeLong, is undertaking the planting of hazelnut shrubs and pollinator friendly plants along the "old roadbed" between Karnes and the Coleman Highland Spring as his Eagle Scout project. His main work day for the planting of these shrubs was the afternoon of May 7th but we got started with a few of them on 4/22. The wildflowers went in Wednesday May 24. (It's actually an old rail bed. We found an 1877 map that shows the short lived K.C.M.&M. line going through there.)
A Missouri native plant, American Hazelnut, Corylus americana, was chosen for its suitablity to the site, wildlife value and beauty. Yes, the nuts are edible, although they are smaller than commercial hazelnuts and likely to be fewer in number. The plants for the sunnier east portion of the old roadbed slope include little bluestem, columbine, purple milkweed and sky blue aster. These were chosen to supply both larval food to early monarch butterflies heading north, and nectar to later monarch butterflies heading south.