Created: 29 July 2010
Updated: 30 August 2012
Published: 29 July 2010
Written by Native
Hits: 6005
Park Walk #1
Report on the Gillham Walk in the Park

All four Roanoke Park area neighborhoods were represented in the walk around Gillham Park on Saturday morning, April 17, 2010. Parks maven and chief honeysuckle bush warrior, Dona Boley led the tour and had plenty of photos to show what the park had looked like at the turns of the last two centuries. At the turn of the 20th Century it was gravel roads with horse drawn carriages moving along still familiar roads. The turn of this century photos showed the once beautiful grounds scarily obscured by unchecked bush honeysuckle.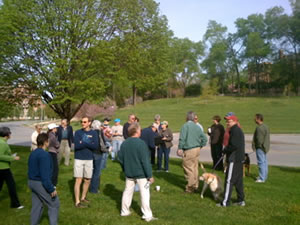 You must see it today! It is beginning to regain its original grandeur with restored walkways and the old stone steps some of which had been buried in the invasive honeysuckle. If you didn't walk on April 17 or haven't noticed recently, take a drive down Gillham road to see what a lot of neighbors have accomplished in a short period of time to begin restoring the park as one of the key pods in the Kessler master PLAN of the unique Kansas City parks "system".
Dona impressed us with the fact that what we see today in Gillham is the result of "The plan, the Plan, THE PLAN!" Now we want one for Roanoke!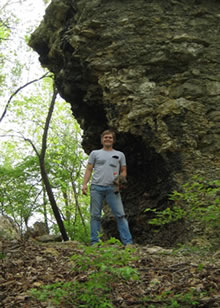 Inspired by the Gillham walk experience with Dona Boley, Dr. Andrew Park begins clearing a favorite outcrop in the northwest quadrant of Roanoke Park. - April 18, 2010.Conversations after the Gillham walk suggested a poll among the four neighborhoods to find out what we would and would not want to see in a Roanoke Park PLAN. The Gillham walk #1 was the prelude to walk #2 through Roanoke Park on May Day. Compare what has been done in Gillham to what might be in Roanoke Park.
Walk #2 was also excellent prep for participating in the survey (results link to come). As you read about the May Day walk, or take your own walk through the park, think about the park you imagine that would enrich your own midtown lifestyle. See the link below to read about Walk #2 in Roanoke Park and please take the survey.