Created: 12 April 2012
Updated: 03 April 2013
Published: 12 April 2012
Written by Native
Hits: 5270
Roanoke Park has been in the news for all the great efforts being contributed to restore and reinvigorate an urban park jewel. About 20 Roanoke Park fans turned out to show some love to the park on Earth Day.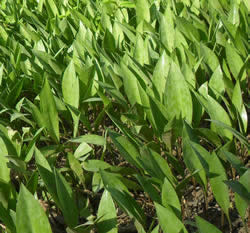 A large trout lily patch in the park March 29, 2012.
Brett had a few helpers and made some good progress roughing in the next section of hiking / biking / nature trail just below Roanoke Drive.
Almost ten very large trash bags of Garlic Mustard were pulled over the weekend, but there's still more to get. See Weeds! What to Pull, and help yank it before it drops its evil seeds. (The worst patch is across from the community center north parking lot.)
A patch of paw paw trees was discovered just uphill from the brick road and hop hornbeam trees were identified next to the rock pillars at the Roanoke Drive point. Yeah native trees!
The bluff across from the Community Center was cleared of honeysuckle to clean up our natural "amphitheater" ahead of the third annual May Day Walk in the Park (May 5th) and the UMKC Conservatory Jazz Concert (June 27th).