Created: 11 November 2012
Updated: 03 April 2013
Published: 11 November 2012
Written by Native
Hits: 5084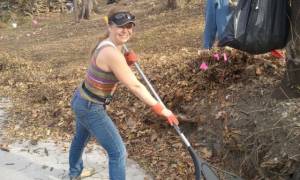 Raking between SW Trafficway and Madison. See below for a link to more photos.
About 50 volunteers came together to improve Roanoke Park November 10th:
Seeding - Three areas were seeded with native grasses and wildflowers. See planting the future.
Trailbuilding - A big section of the lower trail above Roanoke Boulevard was completed, all the way from the community center to point above the volleyball court by about 25 trailbuilders. See facebook.com/groups/roanokeparktrails/.
Brush Removal - Many piles of cut shrub honeysuckle were moved to the curb for parks department pickup.
LUNCH - All attendees enjoyed a delicious lunch courtesy of Whole Foods and chefs Miles, Dianne and Ryan: Turkey chili, vegetarian chili, cornbread and dessert!
For photos of the day see the Information > Photo Galleries > Event Photos section.

Click above to see a facebook gallery of most of the wildflowers in the seed mix we used.
Roanoke Park Conservancy
facebook.com/RoanokeParkKC