Created: 28 July 2010
Updated: 30 August 2012
Published: 28 July 2010
Written by Native
Hits: 7033
The bushwhacking continues...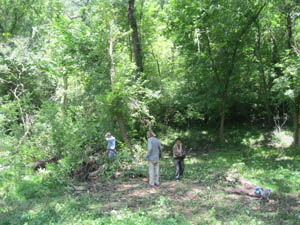 Work began at 8:00 am. We resumed where we left off last week along Karnes. Here Paul Pearce and Scott Burnett are aided by one of the sponsored workers in continuing to clear the area west of the previously "liberated" cottonwood. There's a spring nearby that feeds a marsh that is frequented by a variety of birds.
This weekend, we are grateful for the generosity of Scott Burnett and Joan A. Riffel who teamed up to fund 4 fine workers for 6 hours, Jodi Brown showed up again for a mid-morning treat of fresh cut melon. Her son Addison along with Randy Moore and Paul Pearce were back. Miles set up the work supplies and he and Curt grilled brats for lunch.
And new folks from Valentine were there but I failed to get the names. Please identify yourselves.
Another Community Partner Steps Up
This week another community partner stepped up to help. Recall, Strasser Hardware helps out with special pricing for park tools and equipment. Now, Scott Burnett's long time purveyor of sharpening services, Dave Dresnick of Superior Grinding has made the much needed sharpening of the chain saw blades, machetes and other cutting tools very affordable for us. He just does it.
Dave's great little shop is just west of Browne's Irish Deli at 619 W. 33 Street.
When you need a little edge on your cutlery or personality, go to Superior Grinding. Tell Dave you want your wit sharpened just like Jackson County Legislator Scott Burnett's!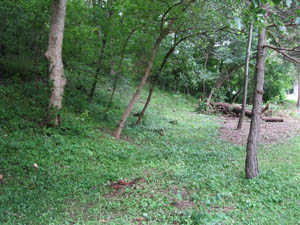 Looking east from nearby the old KC Poster Display Co. building at today's results. Just beyond the fallen log is another big cottonwood. The base of its trunk is hollowed out. A likely gnome home! See if you too think it looks like an old road bed runs up into the woods along the north side of this tree? What discoveries remain to be revealed as we cut away.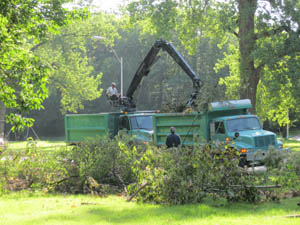 Another pile of debris that our Park Department partners picked up early in the week.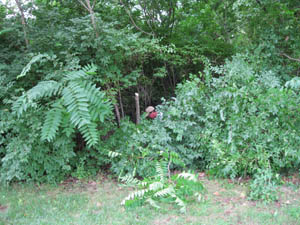 Scott before disappearing in the woods. Scott Burnett, Miles Krivena and Frankie Messer have adopted the strip of the park along the 1100 block of Valentine Road. It was mostly honeysuckle and the foul smelling Ailanthus! No photos of Miles on this project because he beat the heat by working the 1am to 3am shift.
The results of Frankie, Miles and Scott's efforts over 5 days – and nights for Miles.