Created: 28 July 2010
Updated: 30 August 2012
Published: 28 July 2010
Written by Native
Hits: 4342
Bushwhackers on July 17 included Manuel Lopez, Miguel from Lawrence, Scott Burnett, Peter Meier, Curt Watkins, Miles Krivena, Mike, Tim and several others. Officer Sean Finn brought a community service crew to help out.
Make a point to drive by both the work site at the end of the brick road, and along Valentine Road to see the results so far. Consider getting involved with the growing group as we begin to think about the Master Plan for Roanoke Park.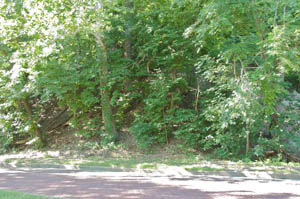 8:00 am Saturday, July 17, 2010 along the brick road.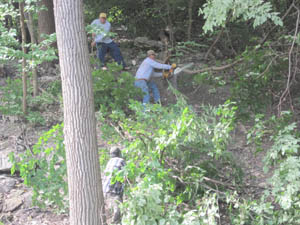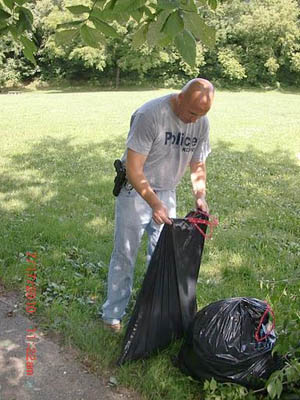 Officer Sean Finn is really involved in looking after our neighborhood. Officer Finn, who is just back from his third tour in Iraq/Aghanistan and patrols Central Division, brought a community service crew to the park Saturday morning. Later in the day he even returned in uniform and patrol car to check the progress and see how we judged the work of the crew. He's apparently as inspiring in telling a story as is the story about his illustrious career. The community service men and women were inspired by Officer Finn to work their tails off and helped make the huge dent in the honeysuckle you can see today.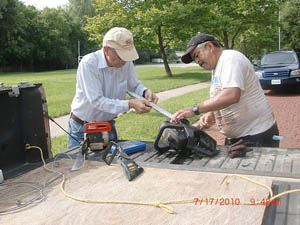 Long time neighborhood activist Manuel Lopez (back again from Volker for the third time) anticipated the skill level of the many amateurs and came equipped with his tool box. He and Miguel from Lawrence kept the chain saws sharpened and performing. Manny and Rick Leitig have also participated in planning meetings hosted by Miles Krivena and have first hand information about the aspirations for Roanoke Park.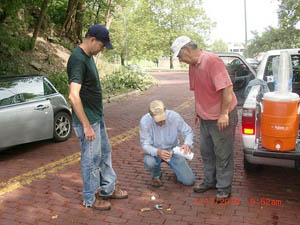 Scott Burnett refilling the Tordon applicators for Peter Meier and Curt Watkins. It's important that each and every stem get a little dab of this topical herbicide within minutes of cutting to lessen the chances that we will have to do this all over again in the future.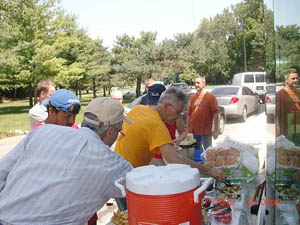 Any worker who spent calories in the morning got them replenished twice over by Miles Krivena who both purchased and prepared the mid day sustenance. Most of us couldn't make a choice so we each had a burger, and a brat and a polish or two with fresh cherries, blueberries and strawberries followed by cup cakes from Whole Foods.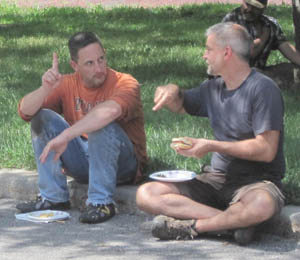 Too tired to vocalize, Mike and Tim have an "animated" conversation about whether to resume the attack on the low or high ground after the lunch break.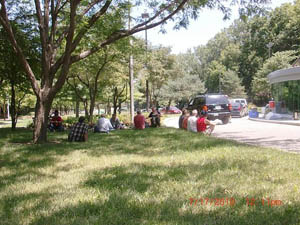 Mile's end-of-day snack featured less variety but was nonetheless greatly enjoyed. Choices were cold beer or colder beer.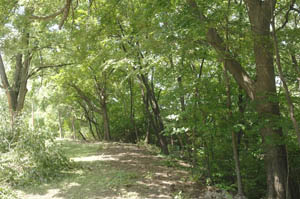 Scott Burnett, Miles Krivena and Frankie Messer* didn't get enough on July 10 and went back for more along Valentine Road in the rain on Sunday. Here are the results! *Professonal photographer Frankie Messer took this dreamy photo along with many of the others shown on this website.